THE SUN IS REBORN 2022
Standing still in the dark, waiting...
The shortest, darkest day of the year is a good time to celebrate the grandness of luminosity to come in new forms, if you're feeling it.
See it in the dark. Feel it in the dark.
Thanks for reading THE PROMISE! Subscribe for free to receive new posts and support my work.
Sometimes it's easiest to see light in the darkness. Let Darkness herself guide you.
Sol Sistere. 
Sol = Sun. Sol is my daughter's middle name, by the way. Sistere = to stand still. 
Brilliance slows down so you can see the light within. Your truth is born from that inner flame. Keep it a light. Even when you think it's gone and there's nothing left, there's always that flicker inside. Pulsing. We are the flame keepers. 
The themes of the season are:
Grit. 
Faith. 
Focus.
Resilience.
Big, honest truth.
Alchemy.
Be ready. Dawn beckons in the still dark.
It's always an interesting day for me as it is my father's birthday. Turns out we are much more alike than we might have thought in previous times.  I get my cool, weird, alien intelligences from him. My inner artist and passionate drive, is also a gift from my father. From my mother, I was gifted grounded, nurturing empathy that sees all sides and perspectives; the ability to hold it all together.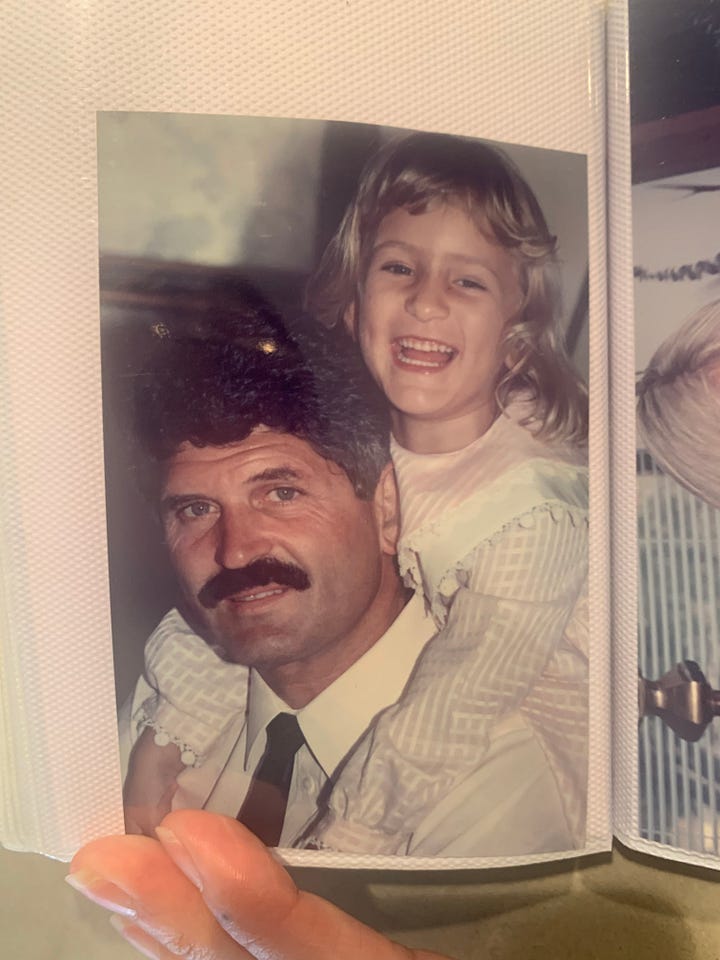 A solstice birthday further supports the concept of celebrating the unseen, being reborn in the dark. You are a sun. Light dims so you can see this for yourself. All rises from the silence. Faith is a practice of mental resilience. The point is, trust is instilled when there is no evidence or direction. Hold faith that new life will come. One must be childlike to see the wonder of stars in the dark. Hence, I find there is a childlike nature abound this day balancing the solemn tone of the long, dark night. There are stars and lights to witness when one is open to profound wonderment itself.
Sit with fear. Sit with truth. Celebrate what is and shall be, in your own ways. 
With all that has been cleared away, where are you now? What is real to you? What doors closed? Who closed them? Who shows up? Why? Reflections and lessons are everywhere; inescapable. Settle into the intrigue with a bit more presence, for here we are facing ourselves.
Allow any restlessness of the heart to find peace in humble truth. Home is here, now in your expression of being. That's it. Truth lies beneath surface facades. Let the dark strip you down. Bare bones. Vulnerable. Naked. And there you are… 
The sun stands still allowing darkness to shine in full power. Radiating quietly, the world draws nearer until the darkness and the light meet again in perfect balance. Fertile ground is abundant today.
In this raw, real you - what will you sow and reap? Think of this in terms of essence, versus outlining the details of how it manifests.
Play the black keys with a light touch.
Focus on the real dreams— constructive desires of the heart. Write it down. Let yourself hope and dream, even if you feel that all is lost. Let yourself dream and own what you want. Surrender to the dream. Let yourself go. Honor the inner dreamer.
Something simple just for today, and just for play… be honest with yourself about who you are without any judgment. Talk to yourself about what your true self wants.
Make it grand or let it be a secret whisper. As you wish… 
Let go of the things that don't support your truest expression of innate gifts, just for a moment.
The energies are simple. Some give life and make you feel alive. Some are heavy and make you feel small. The choice is obvious. To feel yourself expand again is worth the pain of letting go, often perceived as loss or abandonment. 
Roll through the mystery. Honor your good work, your history, and do it with humility. Let those who are meant to find you, do so. If the doors slammed shut, well, fuck it— just turn around. New pathways. Careers. Pauses. Losses. Loves. Friends. Return to the old familiars that anchor you into who you are, here and now while being open to all that aligns.
Directed and firm, yet flowing.
Remember when you were a child? What does that child dream about? 
This life, this moment — it's all about you and you. Becoming one. In the dark. In the light. In the all. There is much to celebrate when you look inside and honor yourself. Life never ends, it only transforms. Be in the alchemy dance. 
Happy Solstice. Take it in. Breathe in it.
For the true lovers… whatever true love is, for you / true love will find you in the end.
For the velvet poetic / her eyes the stars.
With Love,
Kalisa Augustine
Thanks for reading THE PROMISE! Subscribe for free to receive new posts and support my work.