THE PROMISE + THE 4 POWERS
Important Updates & Soul Talk re: creation / manifestation
The last four years of my life have been an arduous journey of mind, body, spirit, and finding my place of peace. This journey has resulted in better health, emancipation from toxicity in all forms, and a new home base. Somehow, I ended up in sunny, southern California. I wasn't so sure about it all, but my daughter is my heart and north star. Seeing how happy she is here has sparked a deeper sense of trust in my most recent life journey. 
After much reflection and contemplation, deep study, self-healing, medical triumphs and recoveries, as well as letting go of my past suffering, I decided to open a physical office again and to include my signature crystal bed therapy energy method. Honestly, my healing work isn't *just work* for me. It does take quite a lot of responsibility, discipline and adhering to a certain lifestyle to become the person who can do this work well and safely; but nevertheless, it is a part of who I am. It is a part of what I am. It's a love language from me to all life on this planet and it will likely be a part of my offering in one form or another, as long as I am here. Balancing the lifestyle that supports doing this great work on planet earth, is my own spiritual journey. I'm grateful for it all, more so than I could ever possibly articulate. 
My new healing office is in La Jolla, CA. I have an upgraded Crystal Light Bed custom built and designed as a Portal to Love (more on that modality to come). I am excited to again share my work with you, and the world.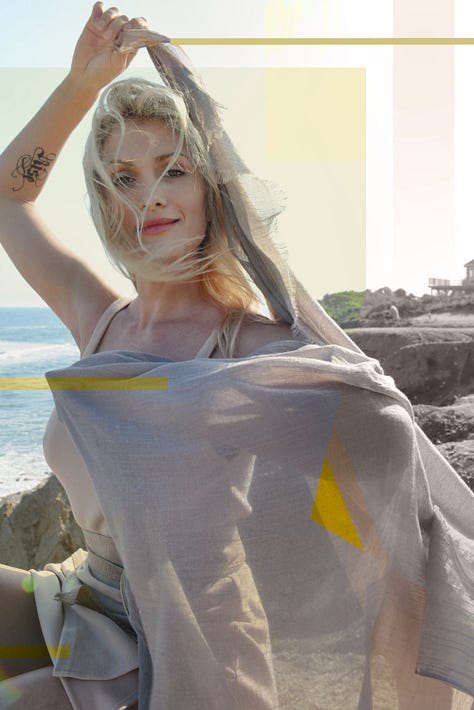 Sometimes, when we face our deepest darkness and move through the underworld shadowland of our personal psyches and interior landscapes, the rocky climate influences our output. This is natural and part of the fluid, morphing nature of transitions. It is to be expected. Regarding this notion, I enjoy writing as another innately inspired art form and felt a need to make a new promise to myself and to you. As I emerged from recent physical ailments, I promised my soul that my writing to you, and that every word I send out, would come from my heart. This newsletter takes my time, energy, heart and it's free. The gift of these words, as well as anything I touch, comes from my heart. That is my promise to you. 
I changed the name of my column, which many of you have been reading for years, to:
You will see messages from "Kalisa from THE PROMISE" in your inbox. Yesterday's letter may have gone to your promotional or spam folder. Please correct this to continue seeing my letters of love. It is my hope & intention that my sharing warms your heart and speaks to the soul. That is my promise. So please, keep an eye out for THE PROMISE in your various email folders. I am ready to speak again, and to hear from you. 
---
Secondly, I will soon be working again in person. As I have mentioned in yesterday's email, my new office is in La Jolla, CA, however I am still available online. Please know remote sessions using the Portal to Love Crystal Light Bed are available. Also, I am starting a mindfulness group, THE ENERGY CLASS, for those who are unable to work with me in person. Again, more on offerings to come in another letter. 
And finally, I want to leave you with some soul food for thought. These life changes have caused me to zoom out and take note of 4 POWERS I've used to support myself through the years. It's so simple, but perhaps explaining it in this way might help you discover the authentic power that lies within you to succeed over difficulty. They work together in a sort of cumulative fashion to support manifestation, even when you're totally f%cked. 
THE 4 POWERS 
1. The Power of Imagination. 
2. The Power of Intention.
3. The Power of Action. 
4. The Power of Surrender. 
Allow me explain a bit more on these themes…
1. The dreamer, the visionary and the mystic within owns the power of imagination. This is where we begin to understand the constructive desires of the heart, allowing the truth within to come alive in our dream worlds where we have the opportunity to see what is it that we really do want. Imagination is the gateway to manifestation, creativity, discovery, and welcoming new ideas into the energy field. Only then, can quantum potential materialize. And we can equate the power of imagination to understanding quantum potential.
This power calls on your feminine energy. 
2. The focused warrior has the mental strength as well as the strength of will to hold the imagination and dreams of the heart with care. The power of intention is for the archer whose eye is on the target. It is the container that holds the swirl of life. The power of intention directs imagination to materialize through faith, courage, knowing, trust and keen mental focus. Hold the intention and don't get distracted or let it go. "The hocus pocus is focus!" - KA, THE ENERGY BOOK.
This power calls upon your masculine energy. 
3. The power of action speaks to your deepest core beliefs. Even when you're on the floor, have lost all faith, perhaps don't know if you're going to make it out alive, there is a flame alight even when we cannot see it. The physical body has its own intelligence that we can call upon in times when we are weak of mind or faith. Sometimes, it is a "just do it" moment. What we do attests to what we actually believe. This is why they say, the road to hell is paved with good intentions; for good intentions without strong actions to back it up doesn't mean much. When our deeds align with our dreams, focus, and faith,— we become unstoppable in our journey of evolution. Align your deeds with your intentions and dreams to empower that which you'd like to see in your world.
This power also calls on your masculine energy. 
4. The power of surrender may be the greatest, holiest and most arduous. It becomes enriched and glorified when the three previous powers are practiced before taking this on in a particular life area. One must know thyself as a spiritual being, with a spiritual home, to be able to let go on this level. Love is letting others be who they are while honoring the nature of the indwelling spirit of the heart. Love is trusting that all is well, even when the physical eyes see the opposite. Love is acceptance of what is. Love is being your natural self. You are Spirit itself in human form, a great part of the living light and love which animates all there is. You are a child of this Great Spirit. You are a child of God. There is no need to suffer or resist when you know who and what you are. The divine plan of your life is unshakable and unbreakable. You are one with your undivided good. When something leaves it is meant to go. When something takes life, it is time to leave it behind, despite what our mental bodies think about it. Surrender is deep acceptance and trust incarnated in a holy virtue. Let go, and let Spirit handle the burden.
This holy power calls on your deepest feminine energy. 
When the 4 POWERS are aligned and integrated with a full heart, one is in good shape to co-create beauty, harmony and joy with the universe. We find the sun despite the times, friends. This is how we roll. 
It is wonderful to connect with you here again. Have a beautiful and blessed rest of your week!
Big Love XO,
Kalisa 
PS. Text me: 646-389-8581